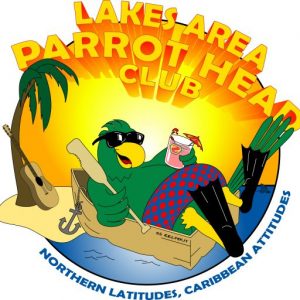 How can I get involved with the Lakes Area Parrot Heads?
It's easy! Our dues are $25 per person, per year. All new members signing up here will be listed as 2018 members. We use PayPal for dues payments or general support donations. To offset the cost of using PayPal (most of our dues go to support charitable causes, plus general operations), we've added a 75 cent service fee. fee. If you prefer, you can go old-school and fill out our form and mail it to Deanna Amundson, 600 2nd Ave NW, Dilworth, MN 56529.
If adding more than one membership, you can choose the number on the PayPal page after you select and submit an option from the dropdown menu below. Please provide an email address where we can contact you regarding club events and updates.
Please note, until our membership director confirms the payment, you won't be listed as an active member. That also goes for cash or check payments. If you have any questions, you can send us a message through our Contact Us page. Thanks!